Introduction
Playfair Mining's 300 km2 RVK Property in South Central Norway was recently evaluated using Albert Mining's (now Windfall Geotek) proprietary CARDS technology. The evaluation used 2 models, the first for VMS Cu-Zn mineralization and the second for magmatic Ni-Cu mineralization. A total of 29 targets were delineated in 5 multi-target clusters and 4 individual targets.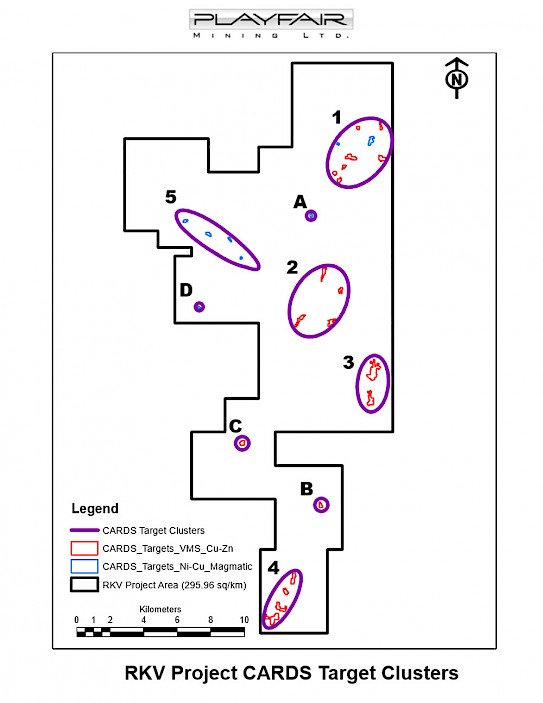 Previous Work
The targets are all in areas of favorable geology and most of them have seen little or no previous work other than prospecting.
There are 2 past copper producers: Kvikne (1629 – 1789) and Rostvangen (1908 – 1920). There is also an unmined drill-defined nickel-copper deposit at Vakkerlien.
Falconbridge were very active in the area from 1974 to 1977, carrying out geological mapping, and geophysical surveys (magnetic and VLF electromagnetic) at selected locations. Following this they drilled 109 holes at Vakkerlien and drill-tested 2 other nickel-copper showings: Olkar (6 holes) and Kaltberget (17 holes) located between Vakkerlien and Kvikne. Falconbridge also drilled 12 holes near to the former copper mine at Kvikne.
Ouokumpu drilled 100 holes at Vakkerlien in 1991-1992. These were mostly infill holes to confirm and delineate the resource.
The Norwegian Geological Survey visited and sampled all the known showings on the RKV Property in 1998.
Falconbridge re-visited the area in 2004 when they completed a large airborne magnetic and electromagnetic survey which covered almost the entire RKV Property. They then made brief field visits to 35 selected locations on the RVK Property in order to evaluate the nickel potential. In the following 2 years they did limited ground geophysics at Vakkerlien.
The map on the following page shows the ground grids established by Falconbridge in the 1974 -1977 period for mapping and geophysics. The locations visited by Falconbridge in 2004 are also shown. The base map was compiled by Falconbridge and shows the general geology with amphibolites in green and trondhjemites in orange.
There are no records of any more recent work in the Norwegian Geological Survey archives. NGU geologists are not aware of any recent work.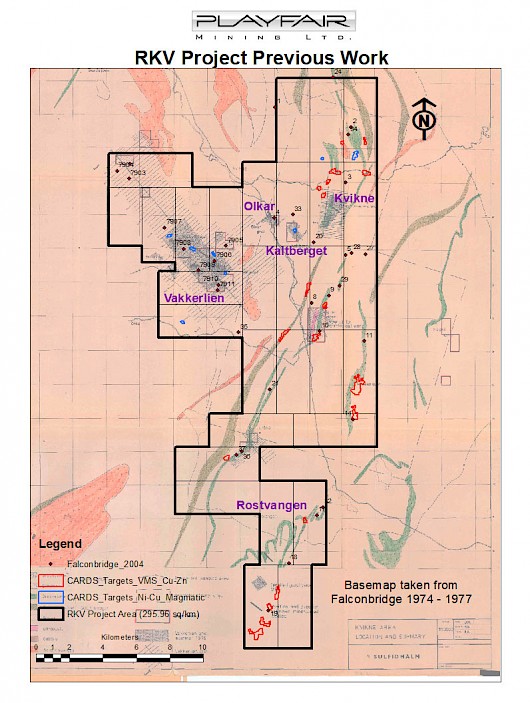 Next Step
Now that the CARDS Evaluation has focused exploration down to 2.5 km2 from the original 295.96 km2 the next step is to evaluate the 29 targets with a different method – geochemistry. The aim of this step is to determine which of the targets contain economic metals such as copper, zinc or nickel.
MMI™ soil geochemistry is Playfair's selected method. MMI™ measures metal ions that travel upward from mineralization to unconsolidated surface materials such soil, till, sand and so on. These mobile metal ions are released from mineralized material and travel upward toward the surface. Using careful soil sampling strategies, sophisticated chemical ligands and ultra sensitive instrumentation, these ions can be measured.
MMI™ has several advantages over other geochemical methods:
Ease of sample collection

Detailed knowledge of soil or glacial till geology is not required

Few false anomalies

Focused, sharp anomalies

Excellent repeatability

Definition of metal zones and associations

Detection of deeply buried mineralization

Low background values (low noise)

Low limits of detection
Playfair has laid out sampling grids over the CARDS target areas using 25m spaced samples on lines spaced 100m apart. The sampling started in late June 2019 and fieldwork is expected to be completed by the end of July. About 1,200 samples will be collected and analysed for 53 elements each.